Other Condo Hotels
While Trump condo hotels are top-of-the-line vacation homes and investment properties, they're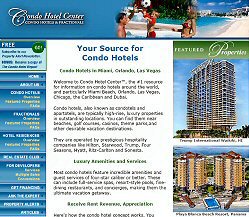 not for everyone. Even with Trump condo hotels cropping up in cities around the world, there are still many locations where Trump has yet to debut. Furthermore, while Trumps provide quality and value, they don't fit everyone's budget.
If you'd like to explore other condo hotels, we encourage you to visit the website of our sister company, Condo Hotel Center.
You'll find more than 100 condo hotels in a wide variety of locations, brands and price points. You'll also find a great deal of information on the condo hotel concept.
You may also want to subscribe to the Property Alert newsletter. You'll receive detailed write-ups on new condo hotels coming on the market and have an opportunity to purchase units at early preconstruction prices.