Coming Soon:
Farallon Trump at Cap Cana
Dominican Republic
Some people say that everything Donald Trump touches turns to gold. This time, his efforts have resulted in a record-breaking $300 million in sales of home lots in one day.  Farallon Trump at Cap Cana is his most recent real estate "gold," and it continues to blaze a trail of sales that has never been seen before in the Dominican Republic.
But, that doesn't mean that you've missed out on owning a Trump property. The next phase in Farallon Trump at Cap Cana has just been announced, and it's our pleasure to provide you with the few details that have been made publicly available.

Cap Cana's Board of Directors President, Dr. Ricardo Hazoury and Donald J. Trump, CEO and President
of The Trump Organization, shake hands after signing the agreement for Trump at Cap Cana.
At a recent news conference in the Dominican Republic Donald Trump announced that the next phase of Farallon Trump at Cap Cana will include a condo hotel, oceanside homes, residences, a beach club, golf villas and not just one, but two championship golf courses.  The real estate luxury products to be developed represent an estimated value of over two billion dollars.
At Trump's side was Dr. Ricardo Hazoury, president of Cap Cana's board of directors.  Hazoury expressed pride in the project and the welcome boost it has provided to the Dominican Republic's economy by calling the project "the future of our country."
The condo hotel will be built to Donald Trump's exacting specifications and will include all the luxury amenities that owners of Trumps properties have come to expect. 
The two championship golf courses, Farallon (7,215 yards) and Dolinas (7,290 yards), will be designed by Hanse Golf Course Design, Inc. and will incorporate the natural landscaping, tress and flowers as well as the views from high atop the cliffs overlooking the Caribbean.
These two courses will be in addition to the three Jack Nicklaus courses at Cap Cana, making this community a true golf destination.

The Punta Espada Golf Course is already completed and will be one of five courses in Cap Cana,
including three by Jack Nicklaus and the two just announced by Donald Trump.
Trump's commitment to this project is unwavering.  He's pledged even more capital investments into what he has referred to as a "spectacular" development.  He congratulated phase one buyers on being among the pioneers to be a part of Cap Cana. 
Trump is one of many investors who have seen the potential of the $1.5 billion master-planned Cap Cana development.  With its 30,000 acres of prime Caribbean waterfront land, Cap Cana is ideally situated on 3.4 miles of virgin beaches.  It will encompass lavish five-star hotels, golf courses and a marina.  Cap Cana is destined to be the most important development in the modern history of the Dominican Republic.
The real estate market situation in the U. S. also came up during the press conference as Trump said "the present real estate crisis in the United States has not affected Cap Cana as its property owners do not come from that one single country, but rather from all over the world. My perception is, that within the next 12 months the situation in the United States will resolve and will stabilize."
Stability in the Dominican Republic is just one thing that has kept a steady flow of money into this project from buyers and developers alike. Trump has promised even more capital investments as the project moves forward.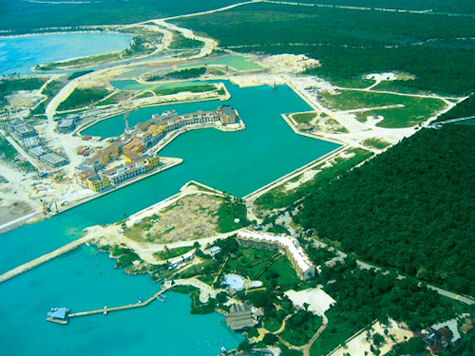 When complete, the $1.5 billion Cap Cana community will span 30,000 acres.
Would you like to be kept up to date on Trump developments at Cap Cana?  Might you be interested in the purchase of a condo hotel unit, home lot or residence? 
We're in contact with the development team at Trump and Cap Cana and can give you the most complete and accurate information about the project.
Register with us to keep posted on the property's progress.  We'll send you updates as soon as new information is released. 
To register, you'll need to provide your full name, address, phone number and email address.  Your information will be kept private and not misused in any way.
Submit your name/address/phone/email here for Trump at Cap Cana updates.
We will confirm receipt of your information, and we look forward to keeping you informed on all the exciting developments at Farallon Trump at Cap Cana.