Trump's Midtown towers to house 570 condos
Project to rise at corner of
W. Peachtree, 15th streets
By WALTER WOODS
The Atlanta Journal-Constitution
Published on: 12/11/06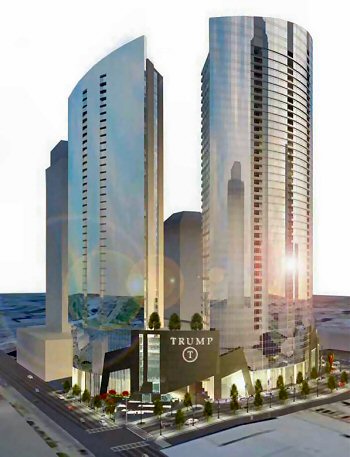 Like his voice, his persona and his hair - when Trump comes to Atlanta, he's coming big.
Developers partnering with The Donald have filed plans with the city of Atlanta calling for a 47-story condo tower at West Peachtree and 15th streets, one of the tallest condo buildings announced in recent months.
Trump's high-rise, first disclosed in August, will have 365 residential units and overlooks the Downtown Connector, along with restaurant space in the first floors. Construction is set to begin in May, with an opening in 2009.
A second planned tower at the site would be 38 stories with another 205 units. That phase would debut by 2012.
Trump's project comes as some developers are signaling caution about the number of new condo developments in the metro area.
The Trump family has approved the design for what's to be called Trump Towers Atlanta, and a sales center should open by June, said Mark Randall, director of local condo developer Wood Partners, Trump's cohort in the project.
Randall has been traveling the country courting a high-end restaurant to go in the bottom of the first tower, he said. Developers want a gourmet grocer for the second tower.
Trump promised this summer that his $300 million project would become an Atlanta landmark. True to his word, his 47-floor project will rival other mega-towers that have cropped up during the area's recent condo boom.
Novare Group's planned tower at Atlantic Station, the Atlantic, is set to be 46 stories. Other high-rises of such stature are blends of offices, condos or hotel rooms. John Williams' The Mansion on Peachtree in Buckhead will be 42 floors, but many of those levels will be hotel suites.
But so many units - Trump's alone is some 570 homes combined - coming to the metro area real estate market begs the question, "Is condo demand keeping up with supply?"
So far, the answer is yes, said Steve Palm, an analyst at Smart Numbers, a real estate research firm. In the first three quarters this year, 3,574 new condos had sold in the metro area, outpacing the 3,191 condos that sold during the same three quarters last year.
Other markets suffering condo busts are seeing sales figures plummet, Palm said. Naples, Fla., saw new condo sales fall 37 percent in a year.
The catch in the Atlanta market is "you've got to be cheap," Palm said. The median price of a condo in the metro area is around $191,000. And of all the condos that have sold in the metro area during the past two years, only 17 listed for more than $1 million.
Anecdotally, some developers admit they are being cautious. Cousins Properties is revamping its Midtown project, Fox Plaza, which will push back the start of a planned condo tower at the site, said Matt Gove, a company spokesman. The delay will give the company a better chance to monitor residential demand, he said.
Wood's Randall acknowledged his company is also being guarded about new condos and focusing more on apartment projects.
But Trump, because of the name brand, is a special case, he said.
Condo projects are "now very, very dependent on location and 'the story,' " Randall said."But if you're in the right location with the right product, you'll be fine in this market."
Want to learn more about the Trump Towers Atlanta? Provide us with your name, phone number and address and we'll send you information as soon as it becomes available.